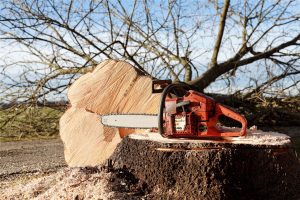 Tree removal is one of the many services we provide to the Sherwood, North Little Rock, Little Rock, and Jacksonville areas. You may want to cosmetically remove a tree to change your landscaping, or cut down a tree that has died or become infested with termites. Even trees that have been struck by lightning or hit by a storm can need to cut down. Sometimes a tree may need to be removed to promote the overall health of your yard, especially if it is diseased or infested with termites. Whatever your reason we can handle any tree to be removed big or small. Removing a tree can be very dangerous when not handled by well equipped professionals. Our team can safely and methodically cut down any tree big or small. A large tree can pose a big risk when it falls but our team has the expertise to chop down any tree safely. Sherwood Tree and Stump Removal will gladly remove your trees and stumps.
Sherwood Little Rock and North Little Rock Remove Trees
Sherwood Tree and Stump Removal prides itself in professional, fast, and cost effective removal of trees. Call or get a free quote today to find out if Sherwood Tree and Stump Removal is right for you. Our service to the local area has helped many families clear their yards and take a lot of stress away. We are the best in the central Arkansas region because of our commitment to excellent service and reasonable prices. We have cut down trees in Jacksonville, North Little Rock, Little Rock, Cabot, and Sherwood and are well equipped to cut down any tree in the central Arkansas region. Our commitment to fantastic service and to our customers in the region sets us apart from the competition. Call us or fill out our free quote form today.
If you have had an emergency and therefore need a tree removed checkout our Emergency Tree Services to see what all we can do for you. Or if you have questions about how to handle an emergency tree situation call us at:
Tree Removal is an essential service we provide, alongside services such as tree trimming, stump grinding, and emergency tree services. Anything you need done in regards to trees we can take care of. As a local business with top quality equipment we truly care about our customers and provide excellent tree service. We can handle any trees removal large or small, any stump grinding, or any branches that need trimming. We try to provide for any tree service need you may have while also offering competitive prices. If you have a dead or diseased tree, a tree that needs be removed for cosmetic reasons or trees that are growing in a dangerous spot call us today and get a free quote. Let us show you how well we can service your yard.